Kay Books
Keeping the tradition Going.
Kay Books was originally a small family-run bookshop in South Street, Boston, Lincolnshire, UK. Dr and Mrs Allday (my parents) ran this business from1975-83. I worked in it along with a brother and a sister, among other staff.
It then expanded to the next door premises as well and was so popular it then moved to Bridge Street. Eventually, the business was absorbed into a local department store (which in 2022 – closed it doors) and the name 'Kay Books' disappeared.
My father also began Richard Kay Publications whose titles include a series of, The History of Boston, booklets.
In November 2007, I re-launched Kay Books as an online bookshop, initially to sell Richard Kay publications, in the worldwide market.
I have gradually found and introduced more titles from other publishers who I feel offer books of a similar nature and am pleased to say we now list over 350 different titles, with more being added all the time.
In the autumn of 2013 (following a personal move to Guernsey, Channel Islands) I began to widen the selection of titles and added some of the enormous amounts of history surrounding the Channel Islands.
I began adding books about The Occupation and the German-built fortifications. The latter being part of the Atlantic Wall project (the fortification of the British Channel Islands, which were occupied by Nazi Germany from 30 June 1940 to 9 May 1945).
The only Nazi concentration camps on British soil were operated by the Organisation 'Todt' (OT) in Alderney. Out latest addition is a social history book about a teacher in Guernsey, who discovered, by chance, following her parents' deaths that she was not the only child she had grown up believing she was!
Her parents were separated during the Occupation (before Jag was born). Her mum evacuated while her dad had to remain in Guernsey as he had a vital role at the power station. This book is a beautifully, sensitively, written account of the story that unfolded as Jag searched for extended family members in the UK.
I have now branched out, displaying a couple of novels, set in Guernsey. These are by Anne Allen and offer a wonderful insight into the island's geography and lifestyle.
There is an active Blog page on the website where news of Lincolnshire events,interesting facts and updates about our books will appear. I do hope visitors will contribute to this with their own news, sending reviews about books they have enjoyed from the site or comments of any kind etc. If you would like to subscribe to regular updates please use the 'contact us' form and request this.
I am always delighted to receive feedback/contributions from visitors. If you would like to contact me please feel free to email me, through the 'contact us' form, or directly at: becky.elliott@kaybooksonline.co.uk – or write to: Mrs R J Elliott, T/a Kay Books, c/o 166 London Road, Boston, Lincs. PE21 7HQ
A Medieval Boom Town
An intriguing book about Boston in the years from 1086 to 1225c.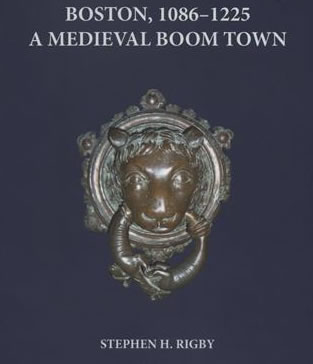 enjoy this fascinating book
The 12th and 13th centuries saw England's trade growing and it's towns expanding.